The LH Awards 2005/2006


Player of the Year -

Gareth Ainsworth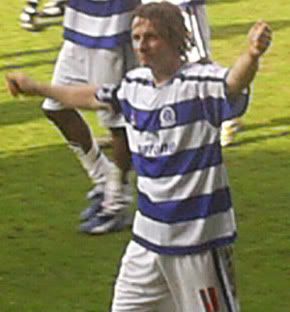 Runner Up - this was a tough decision -

Simon Royce
Young Player of the Year -

Scott Donnelly
Goal of the Season -

Lee Cook

versus Norwich away. Rowlands away at Crewe a close second!
Best Ground Visited -

Sheffield United

, the result clinched it!
Worst Ground Visited -

Cardiff City
Best Home Game -

Norwich 3-0
Best Away Game -
Sheffield United 2
-3

. Although Derby was a close second.
Comedy Classic Moment of the Season -

well this was the toughest award of all with so many to choose from...
The X Factor moment at Swindon Services
The Big Squeeze - in PK's car coming home from Derby
The Classic Contest between Lofty and DJ on the way home from Plymouth
As soon ago as March, we were still talking about making the play offs!!
The Winner

- a recent fans survey asked who would you like to go out for a date with?
Kylie Minogue or a star from your football team?
Now I will say first that DJ won this competition amongst the gang. We thought maybe it was that he was the only one of us (at the time) to have a QPR tattoo. But the secret was revealed, quite publically, on the old Lofty Heights. DJ not only would prefer a date with one of the players than Kylie - he also named the player - Gareth Ainsworth.
Rock and Roll!!!
thanks to DJ for the photo
©LOFTY