Relieved...
QPR 3-2 Blackpool

Rangers moved into the top half of the table for the first time this season with another home win. But the R's certainly made life difficult for themselves against a spirited Blackpool side.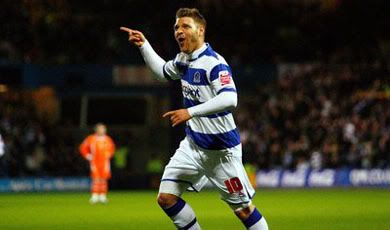 It was a very strange night as it happens. Naturally, I am delighted with the three points, but left the ground last night very disappointed and dare I say, angry, as Rangers seemed to do their level best to throw the game away.

All was well after 47 minutes, we were playing some good football and had scored three excellent goals to storm into what you would think, would be a comfortable 3-0 lead. Akos Buzsaky opened the scoring on 11 minutes - Agyemang crossed from the left and the R's number 10's first time strike, looped over the keeper and into the net. Initially, from where I was sitting, it looked like a fluke, less so on the TV though. Did he mean it? Who knows? But if he did, it was pure genius!


It was 2-0 on 40 minutes through a fine individual goal from Rowan Vine - who picked up a loose ball, took it 10 yards, then a burst of pace took him into the box before firing a left foot shot, hard, low and past keeper, Rachubka.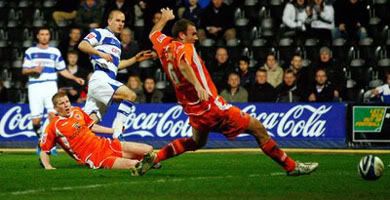 Half time then came and went and despite being 2-0 up, Rangers failure to even turn up in the second half of matches still had many fans nervous. But the nerves were temporarily put to bed on 47 minutes - Vine again cut in from the left and squared to Agyemang in the box, who with his back to goal, tapped the ball to the oncoming Rowlands to smash the ball home.

In truth, the R's could and should have gone on to score 4 or 5, but after a couple of 'nothing to lose' changes from Blackpool, De Canio went defensive, took off Agyemang and put on Mahon to make up a 5 man midfield. It invited, as mentioned, a spirited Blackpool side onto us and goals from Burgess and McPhee had reduced the deficit to 3-2 by 73 minutes. It then turned into a very stressful night for Rangers fans and it was all so unnecessary. Following a couple more defensive substitutions later and 4 minutes of stoppage time that seemed to last half an hour, the R's held on.

QPR: Camp, Delaney, Mancienne, Blackstock, Buzsaky (Lee 85), Rowlands (Rehman 91), Connolly, Agyemang (Mahon 66), Vine, Hall, Leigertwood. Subs: Pickens, Balanta.

Lofty's Man of the Match - Martin Rowlands

Okay, so a win is a win and after a negative-ish report, I will end it positively. We were well in control for the best part of an hour against a good Blackpool side, who were above us in the league at the start of play and came to Loftus Road 5 games unbeaten. Not to mention the fact, that the win has put us in the top half of the table, where we haven't actually been since August 2005.

Finally, credit must go to the 500 or so Blackpool fans who made the long midweek trip and were by far the noisiest away fans at Loftus Road this season, even when the were 3-0 down! The drum was a bit much in the end though I must say... ;o)