We Couldn't Hit A Barn Dorr Today......
Today the R's fans made the short trip to the Black Country for the fixture against out of sorts West Brom.
The Lofty Heights gang assembled in the West Midlands.
With the journey to The Hawthorns being one of the easiest trips of the season, almost like a home game for all of us. With Jess, Sam and Luke all in my car, Jenson had Lofty as company in his car.
Both parties left at roughly the same time of 11.30 and took the very easy trip up the M40, M42 and M5 with no issues at all, it was so easy that before you knew it we were in the East End industrial estate parking up in one of the tightest spaces possible. After everyone had somehow squeezed out of the car we made our way to the entrance and saw Jenson and Lofty making their way into the same car park.
After a short wait we made our way to a burger van and were posed with a question of having a small, medium or large burger. Without skipping a beat Jenson jumped in saying large and saw three quarter pounders enter his bun, much to the shock of the rest of the gang. This was soon down sized to a medium and everyone followed suit, except Jess who opted for a small.
On our relatively short walk to the away stand the breeze around The Hawthorns was quite chilling and had us all wondering if we was prepared for what was going to be an extremely cold afternoon.
The subject of the Grand National was on the lips of everyone and I was talking up the prospects of Shakalakaboomboom as I had been tipping it for the last two months. We'll see how it gets on later.
Lorna joined up five minutes before kick off and took her place next to Lofty and Jenson.
Just one change was made to the side that beat Swansea 3-0 on Wednesday. Shaun Derry returned from suspension and he replaced Akos Buzsaky.
The R's started the game very quickly and Bobby Zamora had the first chance of the game. Hill's headed clearance floated over the West Brom defence and Zamora latched onto it. Zamora was one on one with Foster and the former Man United goalkeeper made a smart block and deflected the ball behind for a corner.
West Brom's movement and pace in the team meant that the R's pressure game in midfield meant that the Baggies could create space in wide areas and former R's loanee Jerome Thomas enjoyed a lot of possession down the West Brom left.
Rangers' really were not enjoying the first twenty minutes and they were duly punished in the 22nd minute.
Odemwingie on the left was closed down quickly by the R's defence but he was still able to lay a pass back to Dorrans, who was thirty yards from goal. The R's defenders were slow to close the Scottish International down, as they were with Paul Scholes last Sunday, and Dorrans hit a sweet strike into the top left hand corner. Paddy Kenny did get a hand to it but the strike was just to good for him. It has to be said it was a great goal.
Lofty's commentary to Lorna, who was sat next to him , was quite entertaining. It went along the lines of "that's a great hit...... oh bugger!" and then applauded the goal in appreciative fashion.
At half time we went down not feeling fully enthused by the first 45 minutes, however we knew that if a good second 45 were to come then we had a good chance of taking at least a draw from the game. The midfield 3 clearly was not working as West Brom were exploiting the space in the wide areas and surely it was only a matter of time until a change was made.
We were lucky enough to be joined by Iceman at half time, the first time in ages that we have had the pleasure of his company and he was as entertaining as ever. We'll be looking forward to seeing more of him in the coming weeks.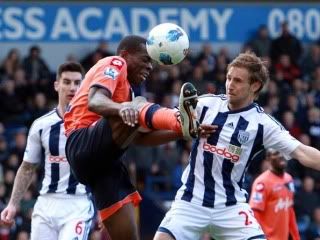 The second half saw Rangers' enjoy more possession but never really looked all that threatening in the final third. Zamora was isolated for long parts of the game with a lack of support for much of the game. With this Hughes made a change and changed to 4-4-2. Shaun Derry came on and Shaun Wright-Phillips replaced him to give the R's more width.
The R's enjoyed much more possession and within minutes he had a volley blocked by the West Brom defence. This pretty much told the story of the half as time after time West Brom put a foot in as a shot was made and Ben Foster did not have a save to make in the second half.
Liam Ridgewell started the time wasting in the 60th minute, when he took five minutes to take a throw. After adjusting both socks and boots, then naffing around with the ball doing nothing, the R's players and management team rightly complained yet referee Moss just let this continue. It wasn't until Ridgewell gestured Hughes with a 1-0 taunt after Hughes probably gave him a few choice words, then the ref decided to step in and award a yellow card. I thought we were going to spend the rest of the game taking that throw in.
West Brom were by no means completely under the kosh. They enjoyed a few decent breakaways and could've easily capitalised on the R's wastefulness in front of goal. Shane Long had the best of the chances late on as he broke clear on goal and when under pressure from Onuoha pushed his shot just wide. There were suspicions of a penalty appeal as it looked as if Onuoha may of clipped Long just as he hit the shot past the post.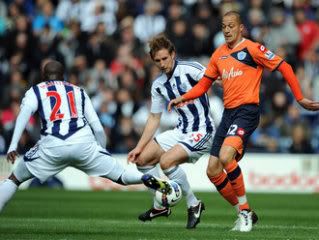 The R's walked away from the game frustrated not to of earned at least a point out of this game. There were plenty of chances in the game, yet Ben Foster was only required to make two saves (from what I counted). Zamora was clearly annoyed that he did not score with any of his three chances in the second half and in the second half Zamora really did not have his shooting boots on as he put one well wide and then glanced a header wide from five yards out. Once Mackie joined Zamora up front and SWP went out wide we looked a better attacking force. I think when Cisse returns next week he will go straight up front with Zamora with Mackie staying wide right, Taarabt wide left and with Diakite and Barton being the midfield battlers. We do look a lot better going forwards with two up top.
We move onto
Man of the Match
now. The gang were largely in agreement for this one again. Mackie gets a mention for his work rate today but received no votes. Joey Barton received one votes from Sam today for a good battling performance in midfield today as he continues hos good form since returning to the starting line up. The winner, receiving all the votes from Lofty, Jess, Sam, Luke, Jenson and myself for another excellent display is
Clint Hill
.
West Bromwich Albion:
Foster, Ridgewell, Brunt, Thomas (Scharner 81), Dorrans (Andrews 71), Mulumbu, McAuley, Odemwingie, Dawson, Jones, Fortune (Long 59).
Subs:
Daniels, Shorey, Hurst, Cox.
Goals:
Dorrans (22)
Bookings:
Mulumbu (51), Ridgewell (61), Dorrans (70)
QPR:
Kenny, Diakite, Hill, Derry (Wright-Phillips 57), Taarabt (Helguson 75), Mackie, Barton, Taiwo (Traore 77), Ferdinand, Onuoha, Zamora.
Subs:
Cerny, Gabbidon, Buzsaky, Young.
Bookings:
Diakite (56)
Referee:
Mr J Moss
Attendance:
25,521
With the journey home being a nice easy run down the motorways, both cars were back home just after 7pm, again there was no issues on the road and a nice easy run was enjoyed by us all.
Onto the Grand National result. My tip finished 9th, however myself and Jess did both win by getting 3rd and 4th places. PK, who missed the game today did get a nice win on it by rightly getting 1st, 3rd and 4th and bagging around £350. Well done PK!!
Lofty will return next weekend with an action packed report from the Spurs game. The report will appear on Sunday as there is a birthday to celebrate in the gang on Saturday and we will be raising a glass or two to help him enjoy the occasion.
Join me in saying
Happy Birthday to California Hoop
.
U R'SSSSSSSSSSS!!!!!!!!!!!