The Clear Out Begins.......
Today Mark Hughes started his work for next year as eight players were told that their contracts would not be extended and four others were told that they were still part of his plans.
Player of the Year Clint Hill, Akos Buzsaky and Radek Cerny have all been offered one year deals to remain at the club, whilst it has been revealed that Kieron Dyer has already signed up ready for next year, hopefully next season will last longer for him.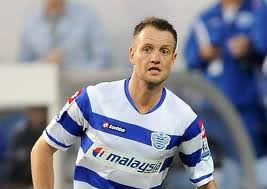 The eight players being shown the door are Peter Ramage, Danny Gabbidon, Danny Shittu, Fitz Hall, Gary Borrowdale(finally!!), Lee Cook, Rowan Vine and Patrick 'Dave' Agyemang.
Of the eight players that leave us, I would like to wish seven of you all the best in finding new clubs for next season as you have been fantastic servants to the club. As for Gary Borrowdale, I think he would be very lucky finding another club so my advice to him would be....... get down the job centre tomorrow as I'm sure there's plenty of jobs going at McDonalds or Burger King that you would be suited to.