Onwards and Upwards...
QPR 3-1 Scunthorpe

Rangers came from behind to return to the top half of the table, in what was a slightly stuttering performance against a hard working and somewhat annoying Scunthorpe side. All this along with an absolute diabolical refereeing display at Loftus Road.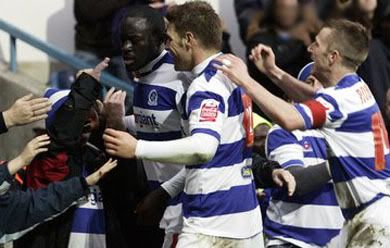 In fact, at one point this afternoon, I was determined I was going to award todays man of the match award to referee, Thorpe, as he had almost single handedly dominated this match.

The fun started on 8 minutes when a harsh free kick was given against Fitz Hall who supposedly fouled Geoff Horsfield. Grant McCann curled a superb free kick into the right corner to give the visitors the lead. Rangers should have been level just a minute later, as Rowlands shot, albeit deflected, was parried by the keeper and Agyemang tapped home, only to have been adjudged offside.

Rangers had further chances from Agyemang, Buzsaky and Delaney, as well as being almost kicked off the park and unpunished too, by Scunthorpe. But 2 minutes before the break came another bad decision, but surprisingly this time, in Rangers favour. Rowan Vine was sent tumbling in the box by Iriekpen and referee Thorpe pointed to the spot and duly, levelled things up. Despite all the protests and gamesmanship from the visitors, Rowlands stayed cool to send the keeper the wrong way.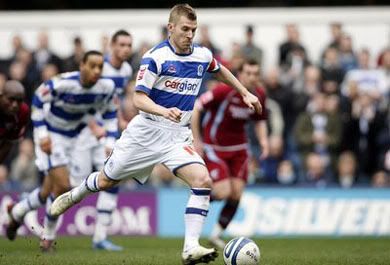 Well, second half performances, or lack of them in recent times, have been mentioned on more than one occasion on these pages. So perhaps going in at the break at 1-1 wasn't the worst thing in the world as we would have to come out and play. Surely we wouldn't play for the draw at home against a team in the bottom three? Or would we?

In fact, as the clocked ticked on, it was Scunthorpe who tried to shut up shop and hold on for the point, which let Rangers onto them and on 78 minutes, we took the lead. A fine move saw Buzsaky play a one two with Agyemang, who smashed the ball into the roof of the net.

By now, Scunthorpe had no answer and in stoppage time, Rowan Vine made the game safe and got the goal his performance deserved, by bursting into the box and delicately chipping the onrushing keeper.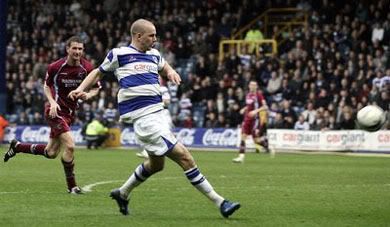 QPR: Camp, Delaney, Mancienne, Blackstock, Buzsaky (Mahon 81), Rowlands (Stewart 92), Connolly, Agyemang (Lee 93), Vine, Hall, Leigertwood. Subs: Pickens, Balanta.

Lofty's Man of the Match - Rowan Vine

As mentioned, it was perhaps better for Rangers this time out that we had to come from behind at home and all in all, it was another good home win, albeit scrappy at times. Although it wasn't helped by one of the worst referees and linesmen I have seen at Loftus Road for sometime... and that's saying something!

Finally, I must just mention that myself and Corp had the pleasure of having a brief chat with R's Chairman, Gianni Paladini after the game and as always, he was both welcoming and only to pleased to stop and spend some time with us. Sadly, the chat was interupted by a phone call from Flavio Briatore, obviously checking the result and such from the Australian Grand Prix. What a day to go househunting, eh PK? ;o)