Baffling...
Norwich 3-0 QPR

Rangers last away game of the season ended in a comprehensive defeat, in a game where the strangest decisions, both by the referee and Luigi De Canio, led ultimately to the outcome. The win for the Canaries confirms their Championship status for next season.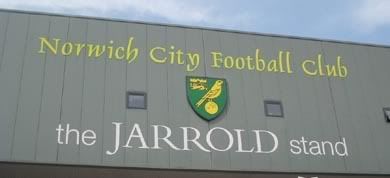 With PK once again scouring the house market, it was a lone drive for me today, but I arrived in decent time to meet up with my friends from the north before the match. In fact, Norwich is one of my favourite away days of the season, so I am pleased that we will be returning next season. But after our 6th straight defeat at Carrow Road, I am struggling to think just why it's one of my faves?? It is also the home to one of my fictional comedy heroes, Alan Partridge.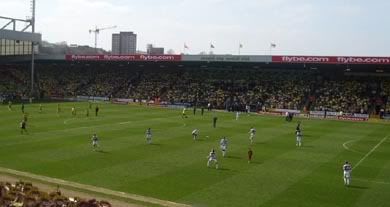 The signs that it could be a bad footballing day were evident before the kick off, with us watching Chelsea's win over Man United in the concourse. But all was forgotten soon after and Rangers started the game lively enough, with Blackstock and Balanta both having good chances. But soon after this, it all went wrong...

A long clearance saw Ched Evans chase through on goal, only to be caught by Lee Camp just outside the box. With Stewart chasing behind, it didn't look good for the R's keeper and the referee indeed, branded his red card - but confused everyone in the stadium by giving the marching orders, to Damion Stewart!! The fact that the R's bench had sub keeper Reece Crowther, stripped and ready to come on, spoke volumes. Following this, Rangers soon went behind - Evans fired home unmarked as the now makeshift R's defence failed to clear their lines. From here on in, there was only one team in it...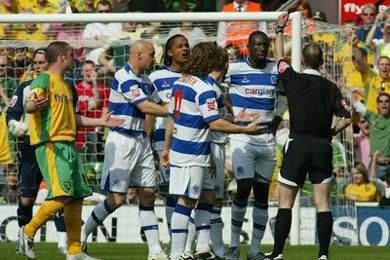 If the sending off was a strange enough decision, Gigi De Canio's decision to then remove Ainsworth and Ephraim to bring on Liegertwood and Rehman, was just baffling?!? The fans were confused and it seemed so were the players - and all this with just 8 minutes on the clock.

A wicked deflection from Fothringham's shot, wrong footed Camp and extended Norwich's lead on 56 minutes and this cruel piece of luck, probably summed up Rangers day. The fact that the travelling R's fans were joining in the celebrations by dancing away to Norwich's goal celebration song(can't remember the name of it, sorry), showed that the majority had resigned themselves to defeat and were there to enjoy the day, regardless.

It got worse for Rangers on 83 minutes, when the erratic Camp, for the second time went wandering when trying to clear, but this time got caught out by Russell who fired into an empty net from 35 yards.

QPR: Camp, Delaney, Mahon, Stewart, Mancienne, Blackstock, Ainsworth (Leigertwood 8), Rowlands, Connolly, Ephraim (Rehman 8), Balanta. Subs: Barker, Lee, Crowther.

Lofty's Man of the Match - Angelo Balanta

The footballing day got worse, with the news that Fulham had come back from 2 down to win 3-2 at Manchester City. The fact that I had one of Norwich's excellent pies knocked out of my hand and all down my shirt, just about took the biscuit. I then took comfort in a hot dog after the game, of which the brown sauce also made it's way onto my shirt front. I then gave up and headed for home...

To finish and to quote Norwich's finest, Alan Partridge on the game, it was a 'butter my arse' performance from the R's. But for Norwich, it was 'lovely stuff'! Not my words, but the words of Shakin Stevens...