Rennie Rules at the Brittania...
Stoke 3-1 QPR

Another slow start to a game, this time cost Rangers dearly as Stoke ran out 3-1 winners at the Brittania Stadium. We have been lucky enough previously, that Uriah Rennie has been out injured when he was scheduled to referee an R's match. But, he returned for this evenings encounter and boy, didn't we know it!!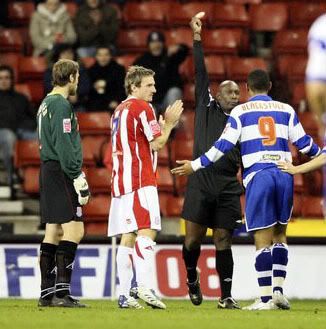 Well, due to a very busy personal schedule, Joe Dennison has kindly stepped forward as a guest reporter tonight as I take a rare, but well earned night off...

As per Saturday, Rangers took 20 minutes to wake up and get going, but by this time, we were two down with goals from Cresswell and Lawrence. For the remainder of the first half, it was a case of step forward, Uriah Rennie - who went on to anger both Rangers players and supporters alike with his whistle happy antics. So much so, that when he finally gave a decision Rangers way, the away end celebrated as they would had Rangers scored!

Rennie stamped his authority on the second half by giving Dexter Blackstock a straight red card on 47 minutes for a foul on Shawcross. It certainly looked harsh and a yellow at best, but the decision was even more surprising as Rennie was also looking in the opposite direction!

As it always seems the case when a side goes down to 10 men, Rangers battled bravely on and a sweet strike from Rowan Vine on 62 minutes reduced the deficit. But Cort made the game safe and eased the home sides nerves on 76 minutes, heading home his first goal for Stoke.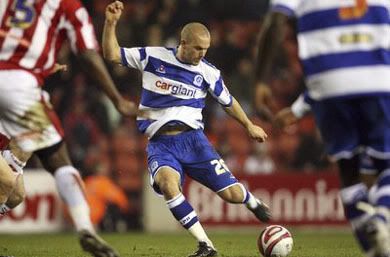 QPR: Camp, Barker, Stewart, Mancienne (Malcolm 19), Blackstock, Buzsaky, Rowlands (Bolder 82), Vine (Nygaard 78), Timoska, Leigertwood, Sinclair. Subs: Cole, Ainsworth.

Joe's Man of the Match - well, if a man of the match is given to someone who's performance has influenced the game, then it would definitely go to Uriah Rennie. However, that is never going to happen on these pages and for another hard working midfield performance, tonight's award goes to Mikele Liegertwood.

To sum up, with other teams around us winning, this was an extremely disappointing result following some more than decent performances. Even more disappointment came with the injuries to Mancienne and Buszaky, who both had to leave the field - especially with the ridiculous amount of games that teams in the Championship are being asked to play in the month of December! Not forgetting of course, the impending 3 game ban for Dexter Blackstock.

Many thanks to Joe for his match notes tonight! :-)