Goodwillie Ensures R's Cock Up Golden Opportunity......
Rangers' returned to Loftus Road following on from Tuesday nights excellent victory against Wigan as Blackpool were the visitors. Blackpool have not won away since November, surely this was a certain three points for the R's?
The gang arrived at the ground with Sam and Jenson the only members not in attendance due to family commitments and a stag do respectively.
We all enjoyed seeing Burnley suffer defeat to Champions elect Leicester which also meant that we could close the gap on Burnley to seven points if we could gain the all important three points.
The gain were all in high spirits following Tuesday's battling performance and were expecting to see a victory as long as we showed the same grit and determination, otherwise who knows what would happen.
Surprisingly there were three changes from Tuesday's winning eleven. Joey Barton and Kranjcar missed out through injury as Benayoun missed out through suspension and were replaced by Karl Henry, BAE(WHY?!?) and Will Keane(WHY?!?).
Rangers' started the game in what looked like the same 5-3-2 formation, with Hughes and BAE as the wing backs, the same formation that failed miserably at Charlton in the 1-0 defeat.
The same lacklustre tempo was showing in the opening exchanges and the team did not look as if they knew how they were supposed to play with each other and the lack of understanding was clear for all to see.
Blackpool were made to look like a good side as for the duration of the 90 minutes we were playing with ten men as Will Keane run around like a headless chicken and whenever a ball was played to him he run away from it before complaining like a little b!tch every time. How he's a Man United player I really do not know! It's a shame they didn't lose today as they may of wanted to recall him, fat chance that will happen if they see this performance!!
Anyway as I was saying, Blackpool were looking like a good side as they moved the ball around their defence and midfield with some fluidity and were able to capitalise on the space yielded by the R's as they opted to play with two 'strikers'. Off the back of this Blackpool took the lead with their second effort at goal.
Blackpool's corner from the R's left was flicked on by Basham towards the far post and Goodwillie evaded the attention of Dunne to nod home from close range! Shocking defending by our defence as Zamora was too late to challenge Basham and then Dunne was too casual in losing Goodwillie and letting the Scottish International get one of his easiest goals of the season.
You would've thought that this would spark live into the home side, however this proved not the be the case as we looked totally imbalanced and clueless in terms of going forward. If it wasn't for Ravel Morrison then I think we could've been looking at a potential Blackpool second as Goodwillie run through on Green's goal, however his effort was sliced well wide when he had two team mates awaiting a pass to the back post.
Rangers' had a clear penalty shout waved away when McMahon (I think) seemed to outstretch an arm to control a high cross field ball that was intended for Zamora and when it hit his arm we all expected to see a point to the spot, however it was waved away!
Aaron Hughes limped off on 32 minutes and he was replaced by the returning Danny Simpson. It didn't take long for Simpson to get himself involved as he was on hand to throw himself at BAE's cross and force the first real save that Gilks had to make in the first half.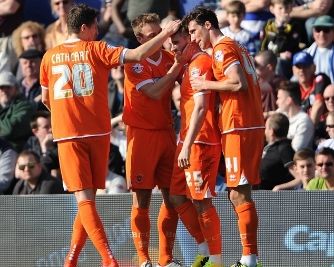 As the players exited the pitch Green was still clearly fuming at the decision to not award a penalty for the handball and vented his frustration at the linesman who had a clear view of it and could've helped his fellow assistant out with the decision, however he, like many other linesmen decided to keep quiet and not do the right thing in awarding the spot kick.
At half time we were all deeply frustrated as we could clearly see that Keane is well out of his depth here and making no impact at all, he needed to be replaced as he was offering absolutely nothing except being a handicap for our aspirations of getting back into the game.
It was also clear that BAE really does not want to be here and his distinct lack of effort was hugely frustrating, especially when we have Yun Suk-Young on the bench who was Man of the Match at Middlesbrough seeing that frizzy haired cnut walk straight back in the team when he clearly wants to be back at Spurs! I'm sure there are plenty of R's fans that would happily volunteer to drive both Keane and BAE back to their clubs were they belong and let the youngsters we have in our armoury like Petrasso a chance to shine.
The second change was made at the interval as Onuoha made way for Junior Hoilett. We can only assume a bump to the head that Onuoha took in the first half was the reason he was the casualty for Hoilett's introduction rather than BAE.
Hoilett made an immediate impact as he became only the second R's player to show any attacking threat by running at the Blackpool defence, the other of course being Morrison, as Hoilett dragged his first shot wide of Gilks goal.
Morrison then saw he had a fellow team mate who also wanted to take the game by the scruff of the neck and soon got himself in on the act as he fired two powerful efforts on goal, however they were right down the throat of Gilks who saved easily.
Morrison then continued his ambush on the Blackpool defence, this time he turned them inside out beating three defenders before he was hacked down however yet again we were left frustrated by the lack of decision being made in our favour.
Zamora was then pulled off and replaced by Maiga, what more can I say?
Just as it was not looking to be our day at all due to poor play and poor tactical decisions we actually equalised!
Morrison and Hoilett linked up before the latter skipped past two challenges and fired across goal into the bottom corner! A well taken goal and gave us some much needed confidence going into the final ten minutes of the game.
Shortly after the equaliser Blackpool were given a great opportunity to seal the winner as Dunne was caught being far too casual once again but the resulting effort on goal went out for a throw in! That pretty much sums up the 90 minutes we had to endure!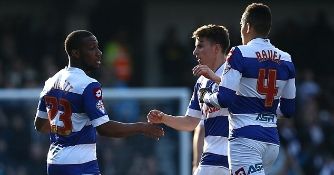 A truly diabolical result and all but ends our threat to Burnley's automatic promotion charge as we have an outside chance of gaining second, however it's certain that we have a play off place and now need to concentrate on finishing third, avoiding playing Derby and Wigan in the process.
I've had my moans about Keane and BAE, as far as I'm concerned we need to keep them away from the squad as we have other players within it who are more worthy of a place within it and will fight more for the shirt.
Hoilett made a real impact when he come off the bench and in all honesty I cannot understand why he's not been starting, yes he is a frustrating player, however he is one of those who will always give it 100% and produce a rare moment of magic. He and Morrison looked like the only people on the pitch today that would threaten in front of goal and if it wasn't for them our goal threat would've been minimal.
Onto our
Man of the Match
. A near clean sweep today as Luke voted for Karl Henry but the winner with votes from Jess, Lofty, PK, Lorna and myself is
Junior Hoilett
as he totally changed the game for the R's and made us a more attacking threat along with Morrison.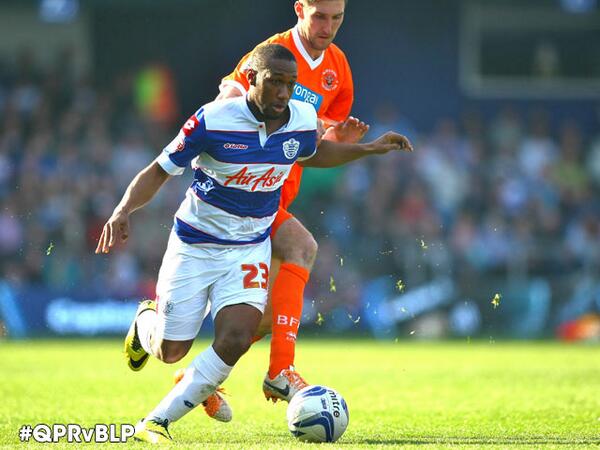 Lofty will return next Saturday as we face an uphill battle against Eddie Howe's Bournemouth side.