Yellow Fever...
Norwich 1-0 QPR

So, Rangers last game of 2006 ended in what let's face it, has been an all too familiar situation over the last 12 months - in defeat. More worryingly, was the performance of which the fight and passion shown at Birmingham on Boxing Day was sadly lacking.

A slightly better gang turn out of three made the trip for what is personally, one of my favourite awaydays of the season. Which is suprising really as Rangers rarely seem to get a good result here. Everyone from the stewards to the catering staff are always so very friendly and with a Delia Smith connection, the food is always good. So much so that Norwich won the Lofty Heights 'Best Pie of the Season' last year. However, only PK was brave enough to try the Mince and Mushy Pea effort this time around.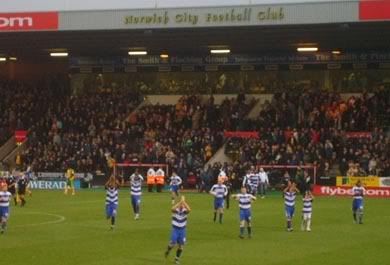 So with the niceties over, it was time for the game and Rangers looked good for the first 15 minutes and Furlong had a great chance saved. But it then was a case of who wanted it more and I am sad to say, it was Norwich... and when Dublin got his customary goal against Rangers on 69 minutes, it was game over.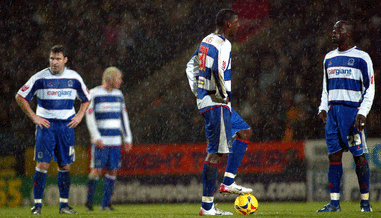 QPR: Royce, Bignot, Milanese, Gallen (Blackstock 77), Rowlands (Ward 40), Lomas, Cook, Stewart, Furlong, Jones, Mancienne. Subs: Cole, Baidoo, Kanyuka.

Lofty's Man of the Match - Steve Lomas - an example to the rest!

Okay, well the report might seem a bit short after this one, but there really isn't much more I can say about a performance that lacked so much of anything. Ray Jones gave a couldn't be bothered type performance and quite frankly, if he does want away the please, just go. This sort of performance was unacceptable! More frustrating was the fact that a fellow striker that will work until he drops, Dexter Blackstock, was on the bench. It is amazing really that the teams below us results are just as bad, but this surely can't keep going on and if I am honest, I am getting very worried now!

And if things couldn't get any worse, the heavens opened so we got back to the car absolutely drenched! At this point I would like to credit PK for his driving in some horrendous conditions and for getting us home safe and sound. For this we can overlook not being able to slice any time at all off the Sat Navs arrival times and getting to Norwich later than planned ;)

Finally, I would like to wish everyone a very Happy New Year!! Let's hope Rangers make it a better year for us all - at least we are still unbeaten in 2007.
©LOFTY