Wycombe 0-1 QPR
A stunning 25 yard free kick from Martin Rowlands on 40 mins, was enough to beat a determined Wycombe side in a dull game at Adams Park.

Time after time, I keep asking myself why I bother with friendly games and today was no different. But with all the transfer activity this week, I suppose there was extra appeal and it's always nice to be going to football again after several boring Saturday afternoons! Myself, PK and nephew Craig made the easy journey up the A40 and our pre match was enjoyed in the very welcoming Scores bar at the Stadium.

We got into the ground just before kick off and what a welcome sight it was to see Lee Camp run into the Rangers goal. The 22 year old keeper got a fantastic reception from a very healthy Rangers following.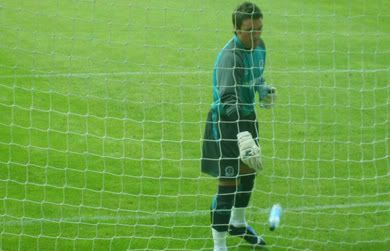 Onto the game, and as you may have guessed, it wasn't one for the purists. Wycombe had much the better chances in the first half but Martin Rowlands stole the show with a stunning free kick into the top corner on 40 minutes.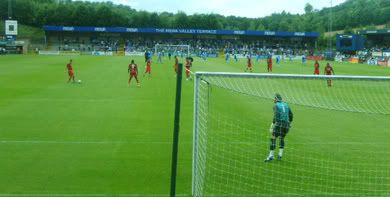 The second half saw a flurry of substitutions but the outstanding Camp had to be at his best to keep out Jermaine Easter. There isn't really much else to say about the game itself, but the new boys all seemed to settle in well. Nardiello was quiet on the right wing, but after a shaky start, Simon Walton looked composed alongside the again excellent Adam Bolder. Mancienne and Curtis both had decent games at the back, but the best of the new bunch for me was Ben Sahar. Despite a distinct lack of service, his touch and running off the ball, looking for space is quite superb.


QPR: Lee Camp (Jake Cole 65), Michael Mancienne, Dominic Shimmin (Sam Timoska 56), Damion Stewart, John Curtis (Zesh Rehman 79), Danny Nardiello (Stefan Moore 56), Adam Bolder, Simon Walton (Stefan Bailey 86), Martin Rowlands, Dexter Blackstock (Marc Nygaard 79), Ray Jones(Ben Sahar 56).

Lofty's Man of the Match - Martin Rowlands

Okay, so it was only a friendly and a win is a win. But much like the Celtic game, there was plenty of good passing and movement from defence and midfield, but again, that killer ball in the final third and the service to the front men was sadly lacking. Two more friendlies to come, let's wait and see...