Same Old Rangers...
QPR 0-0 Plymouth

Plymouth came for a point, QPR weren't up for it, what do you get? One of the worst games ever seen at Loftus Road.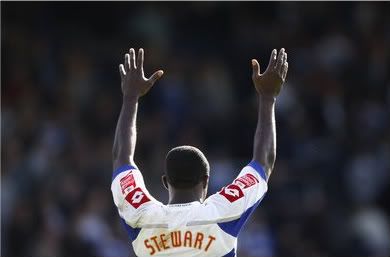 My apologies for the lateness of this report, but myself and the gang attended the QPR Player of the Year Dinner Dance at the Radisson Edwardian Hotel - more on that very shortly. But onto the game and you would really think that with everything that has gone on this season, the players would at least have put on a performance for the last home game of the season or better still, look half interested in doing so?

QPR: Cerny, Stewart, Mahon, Leigertwood, Routledge, Agyemang (German 66), Gorkss, Connolly, Cook (Balanta 56), Miller (Ramage 62), Helguson. Subs: Delaney, Hall.

Lofty's Man of the Match - is cancelled this week

There really isn't anymore I could add about the game so basically, I won't. But sadly, the players took their, what seemed to be, a couldn't give a toss attitude to the Player of the Year Dinner and Dance.

Before I go on, I just have to say that the gang and I had a great night out, it was just the QPR side of things that was the disappointment. It started well enough, the food was nice enough which was in between Rodney Marsh hosting proceedings - which included an auction, a raffle and of course, the awards, which were;
Supporters' Player of the Year
- Damion Stewart

Supporters' Player of the Year Runner Up
- Kaspars Gorkss
Daphne Biggs Supporters' Young Player of the Year
- Matthew Connolly
Ray Jones Players' Player of the Year
- Damion Stewart
Kiyan Prince Goal of the Season
- Martin Rowlands v Wolves
Community Commitment Award
- Gareth Ainsworth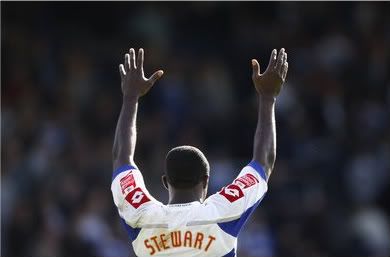 Going back a step and the first disappointment of the night - one of the auction items was labelled as ' Lotto Merchandise', which turned out to be a Fiorentina shirt that once belonged to the disgraced, former Chelsea striker, Adrian Mutu! It goes without saying, that this auction didn't fetch an awful lot. But you seriously have to question whoever at QPR would auction a shirt from a former player of our biggest rivals?? Anyway, moving on...

After a welcoming speech from Amit Bhatia, the awards started and brought more disappointment. I can appreciate that many people would be terrified at the thought of public speaking, but for Damion Stewart, Kaspars Gorkss and Matthew Connolly, to not even say a 'THANK YOU' to the supporters that had voted for them, was a pretty poor show.

The poor show continued after the awards had finished as all but a couple of QPR players made a swift exit. This is disgraceful! The supporters pay their money to follow their team all over the country and with regards to last night's event, payed £70 to be there, not including those who stayed at the hotel at £70/£80 for the night and also paying the hotel's outrageous bar prices( and indeed, phone prices as our friend Lindsay was asked to pay £65 for the privelage of making a 20 minute, local phone call from her room!!)- and these players, can't even bother to to put aside ONE evening a year to chat with supporters, have photos, sign autographs etc etc

As mentioned, myself and the gang didn't let this spoil our evening, but there was plenty there that were extremely disappointed and angry with the attitude of the players and indeed, QPR in general. This was a chance at the very least for the players to give a little something back to the fans. They chose not to do so and it is becoming increasingly difficult to continue to support this club who in return, quite obviously, just don't care about the supporters any more.

To end on a positive, Gareth Ainsworth is an exception to the above and he epitomises what this Club used to be all about. Myself and some of the gang are privelaged to know Gaz personally and after catching a chat with him last night, he himself was keen to get away and back to his family and no more so, for his new three week old baby daughter. But in trying to do so, he never once refused an photo, autograph and chat with any supporter that approached him and he finally left at just after midnight. A absolute credit to Queens Park Rangers!!