Barton Ban Revealed.......
Joey Barton's punishment for his crazy attack on Sergio Aguero and Vincent Kompany was revealed today after his FA hearing was adjourned in the early hours of this evening.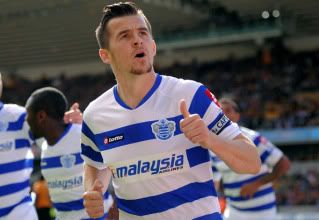 Having received his second red card of the season after he was found guilty of elbowing Carlos Tevez, albeit after the wild Argentinian played his part in enticing Barton to retaliating with an elbow to the underside of his jaw, an elbow that I'm sure some MMA fighters would of been happy with, with referee Mike Dean consulting his assistant referee and producing a straight red and lets be fair, it was fully deserved.
The events that followed were crazy, Barton then kneed Aguero in the hamstring/gluteus maxiumus area and and he was confronted by Vincent Kompany then offered his head to the Belgian International as he continued his walk off the pitch as he was led off by former team mate Micah Richards and fellow QPR staff members.
This has led the FA to charging Barton with two counts of violent conduct, again lets be fair they are fully deserved and as a result Barton has been given an additional EIGHT game ban and fined £75,000 or a weeks wages, that will really hurt the purse strings!!!
So lets get this straight Barton has been handed a twelve game ban for violent conduct, yet Luiz Suarez's racism earlier in the season was only deemed worthy of an eight game ban....... is violent conduct worthy of a greater punishment than being racist to a fellow professional?? If so then this is a very bad example to set in the professional game where racism has no part in our game and youngsters will look upon it that being racist is not such a bad thing after all, as long as they do not physically harm an opponent.
After the Euro's are over John Terry stands his trial in court as he was caught on TV being racist to a fellow professional, which was a lot more than the evidence given against Luiz Suarez, so once this is concluded will the FA punish John Terry with an even harsher fine that will set an example to all the professionals in the game and fellow aspiring youngsters............ you can guarantee this, the FA will not hit Terry with a worthy punishment purely because he is an England International and is seemingly untouchable.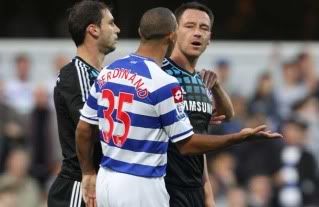 Do we have a footballing governing body that treats everyone equally? Quite simply no, they will back the people who they wish to, as with the Wayne Rooney incident when he kicked out at an opponent yet they have got behind Rooney and fought the ban to get it reduced even though his violent conduct was an act of idiocy and was given the right punishment for.
How long will the FA wear their rose tinted glasses and punish those who they feel have no worth to them and those who bring a revenue to them they protect.
I'm not backing Barton's actions by any means and I feel he deserves a hefty fine and a ban but the example that the forefront of English Football are setting is highly questionable, I just wish they would deal with things equally and treat massive issues like racism more seriously with heavier punishments involved so that it is finally kicked out of our great game.
Rant Over.
I hope you continue to enjoy the summer break.
U R'SSSSSSSSSS!!!!!!!