No More Moore...
Rangers out of favour striker, Stefan Moore has joined League One Port Vale on an initial loan deal.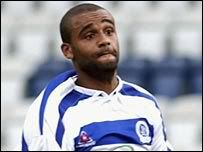 Moore has only 2 goals in 25 appearances for Rangers, and has been a forgotten man since Gary Waddock as been in charge. Readers of these pages will also know that he is by no means my favourite player either, but nevertheless, I wish him all the best...

But fear not, the terms of the loan deal means that Stefan can not come back to haunt us in the forthcoming Carling Cup tie.
©LOFTY