A Handy Point...
QPR 1-1 Leicester
After missing last weeks game, I was looking forward to this one and hooking up with the gang again. Indeed, the usual suspects were at the British Queen before the game and quite suprisingly, there was some real 'intelligent' conversation going down! Corporate obviously realised this and thankfully, normal service was resumed and the normal nonsense was back in full effect.

So onto the game and as already mentioned, normal service was resumed as Rangers conceded their customary early goal - Kisnorbo heading home a free kick on 6 minutes. This is the fifth game on the spin that Rangers have conceded in the first 15 minutes and to be honest, it is becoming beyond a joke now!

So yet again, Rangers had to chase the game and despite being up against a big, physical Leicester side, Rangers created plenty of chances including Rowlands striking the Foxes post. But it wasn't until the 67th minute that Rangers made their dominance count. McAuley acted as a stand in keeper and palmed Blackstock's effort off the line - the penalty and red card were given and Martin Rowlands made no mistake.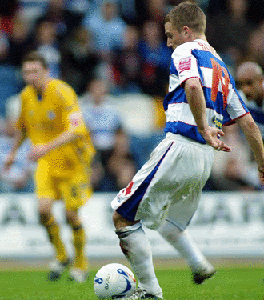 Rangers then went all out for the 3 points and the best chance fell to Blackstock who's perfect header fell straight to the fortunate Logan in the Leicester goal. The Foxes were hanging on but nearly stole the 3 points as Fryatt somehow manage to shoot straight at Royce from 6 yards out.

QPR: Royce, Bignot, Stewart, Kanyuka (Mancienne 22), Rehman, Cook, Lomas, Smith, Rowlands (Ainsworth 74), Blackstock (Gallen 57), Nygaard. Subs: Jones, Rose.

Lofty's Man of the Match - Dexter Blackstock - an outstanding performance and just shaded it for me from Lee Cook.

To sum up, Rangers battled to back to win a valuable point, but yet again had to come from behind to do so. Gregory had shuffled the pack a bit and started with his best back four in my opinion - Bignot, Kanyuka, Stewart and Rehman. Sadly, Kanyuka's return lasted just 22 minutes and the pack was re shuffled again. However, Mancienne looked a class act when he came on! As mentioned, there was outstanding performances from Blackstock and Cook and also, the return of Gareth Ainsworth after a 10 week lay off was great to see. But the decision to start with Marc Nygaard up front amazed me - and his performance confirmed exactly why it had done so...

©LOFTY