Defeat Is Ref Justice For R's.
In the final game of 2011 the R's faithful travelled to Arsenal to see if we could preserve our unbeaten run at The Emirates, obviously we've never played there before but its a positive fact to open up this report with.
Myself, Jess, Sam, Luke and PK left from deepest, darkest Henley just past lunchtime and made our way to Cockfosters tube station, what a great name for a tube station, and parked up there before heading south on the Piccadilly Line to Arsenal station.
Once we arrived we took a short walk to the site of the former home of the Gunners to see the posh flats that have been built in the place of Highbury, we then turned back on ourselves and made our way to the Drayton Park pub were Iceman and Lorna were awaiting our arrival so we could pass on their tickets for the game.
We then meet up with Lofty outside the away end, having made the trip up from South Harrow and passing through 30 stations along the way.
Having rounded up the troops, we made our way in to what was a very compact and cramped concourse upon entry which was quite surprising and disappointing seeing as this is a new ground and very impressive from the outside, surely they would've made a concourse that would be able to hold more than 50 people comfortably on it?
Anyway, enough of my moaning. The stadium as you walked down the steps to your seat was impressive to say the least and definitely holds a wow factor to it. As we got to our seats the teams made their way out onto the pitch.
Neil Warnock made five changes from the side that drew 1-1 with Swansea on Wednesday. Radek Cerny, Matt Connolly, Danny Gabbidon, Shaun Wright-Phillips and Jay Bothroyd came in for Paddy Kenny, Fitz Hall, Clint Hill, Shaun Derry and Heidar Helguson.
Rangers' started the game brightly and even managed to get the first real effort on goal when Bothroyd run at the Arsenal defence hit one from 25 yards out which was just within the reach of Szczesny.
Wright-Phillips just moments later was presented the opportunity to break the deadlock as Taarabt's magical pass found Wright-Phillips on the left edge of the penalty area and SWP took a touch before trying to lift the ball over Szczesny but the Arsenal keeper rushed out early enough to block the shot and Arsenal cleared the danger.
Arsenal's tactics were pretty predictable in all fairness, give the ball to Van Persie and if you cant pass to him then pass to Walcott and let him run at Traore. If those two options failed then Arsenal really did not know what to do apart from give it to the impressive Alex Song and let him try and create something for the home side.
With Arsenal having very little success at attacking the R's goal it was the turn of the officials to take centre stage and award some really baffling decisions. The corners and throw in's that were blatantly QPR goal kicks and throw in's were somehow awarded in the home teams favour and we were lucky that Arsenal failed to capitalise on the clueless refereeing performance being put in.
Arsenal's best chance of the half came from a cleared corner when the ball dropped to Arteta and his half volley was cleared off the line by Barton just before half time.
The gang tried to assemble on the concourse again at half time and after ten minutes of squeezing through the crowds, who were in fine voice singing "we're gonna win away...". Finally we all got together for five minutes before we had to fight our way back to our seats. Most of our conversation revolved around the questionable officials and their decisions. We were issued with a three minute warning before kick off, obviously that was when Martin Atkinson had finished hs half time cup of tea with Arsene Wenger.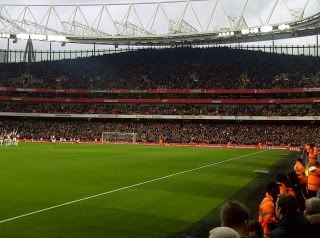 The second half started and there was no difference to the second half, the R's were pressing and looking threatening whilst Arsenal looked to Van Persie and Walcott, whilst that was not working the same didgy decisions were being made by the match officials.
Arsenal had the best chance of the half within ten minutes of the restart.
Ramsey played Walcott clean through on goal with just Cerny to beat, Walcott scuffed his shot well wide of the R's goal.
The R's won a corner, well so we thought on 60 minutes, only for the linesman to award a goal kick!! Absolute joke!
From the goal kick Rangers' won the ball back before Wright-Phillips loose pass found Ramsey, who in turn fed in Van Persie (shock) and the in form Dutchman slid the ball home past Cerny to finally get the Arsenal fans on their feet and away from their prawn sandwiches.
This did not dampen the spirits of the R's players and we continued to press on and try to get back in the game.
Taarabt forced a superb fingertip save from Szcznesy when he tried his luck from 25 yards out.
The R's kept believing and kept on attacking the Arsenal full backs but none of the crosses were reaching any Rangers' players in the box. Even with the substitutions of Campbell, Smith and Orr we just were not able to breakthrough the Arsenal back four.
Gervinho's introduction for Arsenal provided a threat that they never had before his entrance to the game and if they had his attacking threat then the game could've been very different.
Szcznesy's inciting of the crowd minutes from the end of the game really did not help the mood of the travelling fans as he shouted towards the R's fans "Arsenal.... blah blah blah", I'll be honest I cannot remeber his exact words but it definitely riled many of the travelling fans.......... idiot!
As you can probably see by the summary that there is a lot of frustration from this "performance" by the referee Martin Atkinson. He and his assistants were poor and biased towards the "bigger team". These kind of refereeing performances are often spoken about where the smaller teams visiting one of the "top 4 clubs" and receive nothing at all whilst favouring the big club. However there was not only that bias towards Arsenal but also the amount of dodgy decisions given to Arsenal when we had clearly won corners and throw in's is unbelievable! None of them were even close and just shows how corrupt things can be at times.
Today was a great day out and enjoyed by us all, its a shame that with 60,000 people in a stadium that not much atmosphere is created by the home side, it really is like a library in there and in all fairness our away support was not the best I've ever heard, maybe because there were quite a few people that got tickets that meant other fans that usually travel away missed out on getting tickets. I wonder if there will be such a high demand for tickets when we travel to Aston Villa, Blackburn and Bolton?? Probably not!
The stadium is fantastic and even walking around it at the end was impressive and definitely sets the standard to other new grounds out there being built.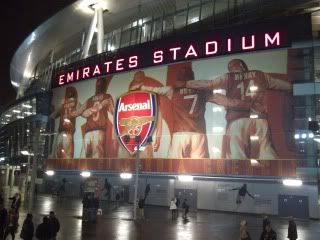 As we finished looking around the stadium and were about to leave after taking our final photos, Lofty was stopped by an Arsenal fan that had clearly never been to The Emirates before and asked for his photo to be taken with the ground behind him. After kindly obliging to this the fan had the cheek to tell Lofty that he wanted his photo re-taken as he did not like it, cheeky git!
Having finally given the tourist fan the photo he was after, we made our way to the bridge only to be obstructed by even more tourist fans looking for their picture of the day that they visited The Emirates for the first (and probably last) time.
I just hope that in a few years time and we have a new ground that we will be proud of, we never get that kind of following, it's inevitable that it will happen but I hope the hardcore base that we do have amongst us will make up the majority of the crowd.
Our
Man of the Match
was again very closely contested between three players.
One vote went to Armand Traore who was superb on his return to Arsenal, he defended excellently and his attacking presence was always troubling Arsenal. With two votes was Adel Taarabt. Taarabt was superb all game, he tracked back and was a constant thorn in Arsenal's side all afternoon. However with three votes and gaining the majority vote is
Shaun Wright-Phillips
. Despite his one error that cost us the gosl (even though it came from us not being awarded a corner), the rest of the game he showed his class and this came from us actually passing the ball to his feet rather than lumping high balls up to him. If we can continue to use SWP to his strengths then we will see the best of him in 2012.
Arsenal:
Szczesny, Mertesacker, Vermaelen (Coquelin 54), Koscielny, Arteta, Van Persie, Walcott (Gervinho 74), Ramsey, Song, Djourou, Arshavin (Rosicky 67).
Subs:
Almunia, Oxlade-Chamberlin, Chamakh, Benayoun.
Goals:
van Persie (60)
Bookings:
Vermaelen (37), Djourou (40)
QPR:
Cerny, Gabbidon, Taarabt, Bothroyd (Campbell 74), Faurlin, Mackie (Smith 64), Traore (Orr 77), Connolly, Barton, Young, Wright-Phillips.
Subs:
Murphy, Hill, Derry, Helguson.
Bookings:
Barton (27), Young (54)
Referee:
Mr M Atkinson
Attendance:
60,076
Happy New Year to You All!!!! Hope you have a great 2012!!!!!

U R'SSSSSSSSS!!!!!!!!!!!!!!!!!!!!!!!!!!!!!!!