Am I Bothered?!?
Wolves 2-0 QPR

How nice it was to go to watch a QPR game and be able to relax and enjoy the day! Today, it was the Wolves fans who had to endure a tense afternoon as their very nervous side claimed a 2-0 victory.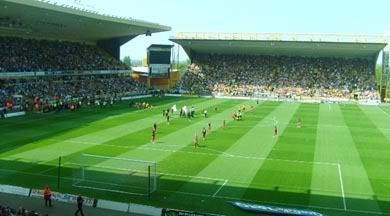 A full car load of myself, PK, Corp/Al and Special Guest for the day, Jill made the easy trip to the Black Country. Although a one point, we were a little concerned with Jill's living quarters. I punched her post code into my sat nav before we left, and when it finally said 'arriving at destination on right', all that was before our eyes was a green wheeliebin?!?

On arrival and for the second away game running, we managed to park right outside the ground, with PK spotting a place with no yellow lines or restrictions... and our luck continued when we were also admitted into a home fans only pub - although a cocktail of red bull, panadol extra and lager seemed to highly advance the fun behaviour of Corp/Al for the remainder of the day! Then, we found a food van selling hot dogs at £1 a go, it just had to be our day!?

Sadly our luck run out from there, but not before we duly paid our respects with a minutes applause to England World Cup Winner, Alan Ball who sadly died last week...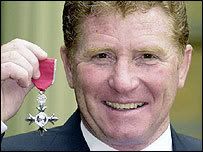 R.I.P. Alan Ball

----------
Onto the game and a much changed Rangers more than held there own in the first half against as mentioned, an extremely nervous Wolves... and could have been ahead just minutes into the second half as Jimmy Smith hit the underside of the crossbar. But the pressure finally told as goals from Keough and Kightly gave Wolves the win, despite the best efforts of Jake Cole in the Rangers goal. But the Wolves fans celebrations more than showed just how relieved they were...

QPR: Cole, Bignot, Bolder (Bailey 76), Rowlands, Lomas, Kanyuka (Timoska 59), Stewart, Furlong (R Jones 67), Nygaard, Smith, Milanese. Subs: P Jones, Moore.

Lofty's Man of the Match - Jake Cole - outstanding performance!!

The bad luck continued for the gang with all of our recent bookmaker wins being blown away by this result. But there was also plenty of cheer around from the earlier Chelsea and Man United results and also, the result from Elland Road which all but relegates Leeds United. Now, I will never forget their fans chanting at us a couple of years ago - '6-1 in your Cup Final'!?! Did they really, honestly think that playing them is the highlight of our season? I won't gloat too much obviously, but I wish them well for all of their future 'Cup Final's' in League One to come!!

We also say goodbye to Southend who lost at home to Luton and also drop back into League One.