Thanks for Sweet F.A.
The start of a new week and surprise surprise - more bad publicity as the FA have today charged QPR under rule E20 (again) following the training ground fight with the Chinese Under 23 Olympic side last month.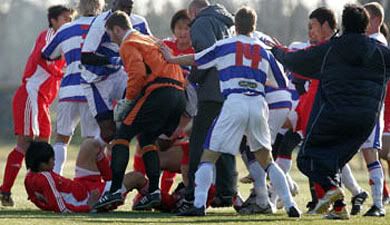 It is suprising really that the FA have come down heavy on us yet again, seeing as the match in question was a non FA sanctioned match. But in saying that, this is QPR we are talking about - a Club that the FA decide to charge when their keeper gets assaulted by a Stoke fan at the Brittania Stadium. Stoke City however, get let off the hook!

It must also be mentioned that the representatives for the Chinese team accepted full responsibility for the incident and the Chinese FA have dropped all charges.

Hey, but as I said, we are QPR...

Let's see what the FA do with regards to the melee at the Carling Cup Fina
l yesterday? I bet it's not nearly as much as we are going to get fined?