United we win....
This Saturday the Rangers faithful took to the road for another long trip on the motorways, this time we headed up north to Scunthorpe. Lee Brown gives you details on how the day unfolded.
Today saw a depleted mob take to the road as unfortunately Lofty and PK couldn't get their shifts covered, and after seeing Tuesday's performance it wasn't a trip I was particularly looking forward to either but I took to the road with Sam and Justin at about 10am and headed up to the first of the five motorways. Three long hours later and after having our little car blown in every direction possible by the strong prevailing winds along the M1 and M18 we finally arrived at Glanford Park and the first thing we noticed was the beautiful smell of fresh food which is so rare from a football ground. We then parked up and met up with Leeds mob member Paul and took the short walk through the turnstiles into the ground.
Inside the ground we chose to head straight to the refreshments kiosk for a nice bit of grub. I wanted to go for the Yorkshire wrap which has received rave reviews from Lofty and PK but unfortunately the young lad behind the counter didn't know what one was despite them having a poster up stating that they were on sale there, after a few questions he found out that none were currently ready. I went straight in for a tasty Beef n Onion Pukka pie and my second choice which once again the kid who was serving me didn't know what he was selling, luckily he received some help and I finally got my pie and drink. Justin had fewer troubles luckily but we were served by possibly the dumbest person we could've got, it did entertain us for 5minutes though.
We then meet up with Michael and friends and discussed a few bits whilst the players were going through their warm up right in front of us.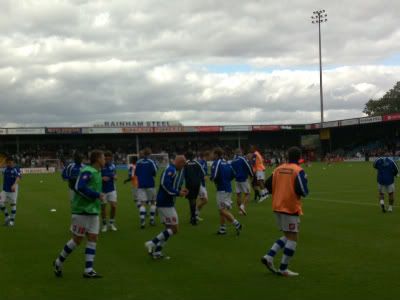 Jim Magilton made seven changes from Tuesday night's dismal performance against Accrington Stanley. Cerny, Hall, Borrowdale, Routledge, Faurlin, Taarabt and debutant Jay Simpson came in for Heaton, Stewart, Gorkss, Buzsaky, Vine and Agyemang.
It looked as if we were going to start the game with a 4-4-1-1 formation with Simpson up front on his own and Taarabt just behind him in the free role.

Buoyed by the news of the league cup draw on the journey to Scunthorpe the 682 Rangers fans in attendance started the game in good voice and soon had some action to shout about.
Within 30seconds Rangers were on the breakaway, Simpson was played in down the right hand side and was clear of any defenders so Scunthorpe 'keeper Joe Murphy rushed out of his area and took out Simpson. It was a reckless challenge but he wasn't clear through on goal so the goalkeeper escaped with a yellow card for his actions.
With 3 minutes on the clock Taarabt picked the ball up just inside the half way line, took on two defenders and then played a neat one-two with Faurlin, bypassing two more defenders in the process before beating one final defender and poking the ball past the advancing Murphy in the Scunthorpe goal to make it 1-0 to the Rangers!
Rangers looked to be finding a groove and were playing some nice passing football and were keeping possession a lot better than in the previous fixture.
Rangers continued to create openings and when Leigertwood found himself in space just inside the 18yard box, after more good work from Faurlin, he saw his shot well saved by Murphy. Was a great opportunity to extend Rangers lead!
The hosts slowly began to creep into the game and a lot of their attacks came from Rangers left hand side and it was only a matter of time until Cerny got tested. Luckily for the Rangers 'keeper efforts by Hayes and Woolford were pretty tame and gave him nothing to sweat about.
Back up at the other end Simpson was given two fantastic chances to open his Rangers account. Firstly a header from a Routledge cross fell just wide of the mark and the second effort came when he beautifully turned his marker and pulled his effort wide once again when it looked easier to hit the target.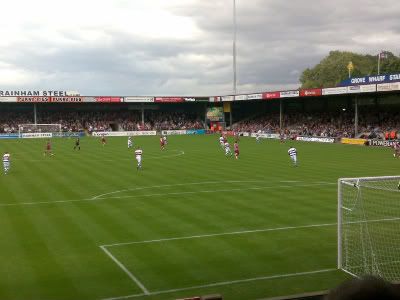 Half time soon came along. Rangers looked comfortable enough and really should've been at least two or three goals to the good, if only it was for better finishing. Scunthorpe didn't totally roll over and in fairness they did create a few chances themselves but the defence and Cerny held up well and didn't have too much danger in clearing their lines. The biggest worry was that as Scunthorpe were getting more confident in their attacks it seemed as if a lot of what they were creating was coming from the left hand side of our team. Connolly did do a lot of covering out there, even Faurlin and Hogan helped out a fair bit down there and at times we looked nervy but we were dealing with things as we had to.
As the second half was taking shape neither team really had a strangle hold on the game.
Simpson continued his hard work from the first half and was chasing defenders down, putting them under pressure and managing to force a few errors from them. It would've been nice if he had a little bit more help up there as he did win a fair share of headers and held the ball up pretty ball before trying to release an on-coming R's midfielder into the attack.
After a ten minute stalemate in the second half Magilton made the first change of the game, Taarabt coming off and being replaced by Vine. Vine looked to head straight up alongside Simpson and help out the young striker who after all his hard work began to look a little tired.
Shortly after the change Rangers had the first chance of the half.
A corner from the R's left hand side was only partially cleared and the ball fell to Fitz Hall just outside the right edge of the six yard box, his effort with the outside of the right foot was tipped over by Murphy.
Again the half went into stalemate but Scunthorpe were looking as if they were coming more into the game and Rangers began to sit back a little more and tried counter attacking a lot more but with a lesser success rate.
Halfway into the half the hard working and tired Simpson made way for Helguson as Rangers looked to nick that all important second goal.
However it was Scunthorpe that created the more dangerous attacks. Thompson's cross was intercepted well by Cerny after good work down the Scunny right hand side. Hayes also looked to have another effort saved by Cerny.
Rangers finally got the perfect counter attack with Hogan down the left hand side and fed Helguson the ball before he laid it off for Vine who was 12 yards out with the goal gaping and begging for him to slot the ball in the half empty net, unfortunately his effort went over when it was definitely easier to hit the target.
Scunthorpe continued to push as Rangers soaked up the pressure but were getting deeper and deeper into their own half.
In the final minutes of normal time Helguson fed in Routledge who was clean through and ran goal wards from the halfway line he got inside the 18yard box and was met by Murphy, Routledge tried slipping the ball past Murphy before running on and tapping into the empty net but has Routledge ran past Murphy it definitely looked like there was contact by the 'keeper and the R's would get a penalty and a change to seal the game finally.......... but no! The ref judged Routledge to have dived and booked the winger for this. Having seen the replay I still think contact was made and the decision was a joke! 30 seconds later a small nudge on a Scunthorpe player in our half was judged to be a foul and the already infuriated Magilton exploded and must've said a few strong words as the fourth official called over referee Graham Salisbury and he sent Magilton off to the stands.
Just as we were expecting two or three minutes added time to be shown the ref dropped another bombshell on us..............
FIVE MINUTES ADDED TIME!!!!
Where the hell he got this from is a mystery as the only real stoppages came from the six second half substitutions that were made.
After a few more nervy moments in those SIX minutes that were played the R's secured the precious victory that we have been waiting for. It was far from easy and if Scunthorpe were better in the attacking third then we could really be looking at another drawn game, but it wasn't and we got our 3 points.
Overall I think we shaded the game and really should've been further ahead at half time. We missed two great chances in the second half and of course we had the penalty shout waved away.
In fairness to the hosts though they did fight and scrap but they came up against two very good centre backs having a very good day. It's a tough call but for me out of Fitz Hall and Matt Connolly I feel Connolly had the better game and therefore today's
Man of the Match is awarded to Matt Connolly.
Finally I do have to give a big mention to the squad of players after the game as all of them came over to the travelling support and all clapped us. Hall, Ramage, Leigertwood, Routledge, Hogan and Simpson all gave their shirts to various members of the crowd in appreciation of the support. Well done to the players for that, it just goes to show that we are united when we win, so let's be united when we lose and draw also. Let's get behind the boys and hope that together we can all kick forwards this season and achieve the best results we can through the good and bad performances.
Scunthorpe United: Murphy, Williams, Togwell (McCann 61), Byrne, Sparrow (Thompson 70), Hayes, Hooper, Mirfin, Woolford, O'Connor (Wright 61), Spence.

Subs not used: Lillis, Forte, Morris, Crosby.
Bookings: Murphy (1)

QPR: Cerny, Ramage, Hall, Leigertwood, Routledge, Connolly, Faurlin (Mahon 81), Simpson (Helguson 70), Ephraim, Borrowdale, Taarabt (Vine 56).
Subs not used: Heaton, Stewart, Buzsaky, Pellicori.

Goals: Taarabt (3)
Bookings: Routledge (87)

Attendance: 5, 866 (682)