Harry Points Us In The Right Direction
€
Due to the beauty of the amazing fixture machine the R's fans hit the road as they travelled to Sunderland in horrible conditions to see Harry Redknapp take charge of the R's for his first game.
The day started as a disaster for Lofty as he got stuck on the M25 due to an overturned lorry. This left Lofty stranded on the M25 not moving and despite the assembled gang waiting as long as they could so he could make it, but unfortunately time was not on his side and by the time he exited his nearest junction the gang of Jenson, who was the designated driver for the day, PK, Luke, Jess and myself, were in Northampton. in what was a smooth first hour of driving. Sam also could not make the trip as she was looking afterher beautiful twins.
We soon hit traffic as the M1 was closed for half an hour due to animals being on the road, we only saw police, so make whatever joke you wish to of that. After being at a standstill for 40minutes we finally were on the move but only to find out that ahead of us we had the A1m down to one lane and needed to find an alternate route that would enable us to make up he lost time and get to the ground on time and relax after what had been a stressful journey.
Due to some excellent driving by Jenson we arrived wth 20minutes to spare despite having an ETA of 20:10 at one point.
On our walk around to the other side of the ground to take the long hike up the stairs with our oxygen masks at the ready, we bumped into Lorna and after a 10 minute assent we reached our peak and headed to our seats.
Redknapp made three changes to the side that fought galliently against Man United on Saturday.
Bosingwa, Diakite and Granero replaced Dyer, Derry and Faurlin.
The R's looked to line up in a 4-1-4-1 formation and looked far more solid than in recent weeks. When defending set pieces we had ditched the dreadful zonal marking that had cost us so many goals this year and gone back to the tried and tested man marking and with this the R's looked far more comfortable defending.
Going forwards the R's were finally looking to play balls in behind the Sunderland defence for Cisse to run onto and give him the service he has been lacking this season.
Cisse was enjoying his new found service but was lacking in confidence to beat the final defender and test Mignolet. instead Cisse was hitting his shots early and having them blocked to safety. Taarabt was trying to pull the strings in midfield but was lacking movement in front of him to feed in and that was the only area that the R's were not penetrating enough. Mbia looked excellent and controlled the midfield whilst also giving additional cover when Sunderland did look to break forward.
Rangers' came closest when Mackie broke clear of the Sunderland defence and took one touch too many and had his poke blocked by Mignolet, the rebound fell to Taarabt who he scuffed his shot and had his effort cleared to safety.
Sunderland did have one chance in the first half when Fletcher turned clear before seeing his shot blocked for a corner by Cesar.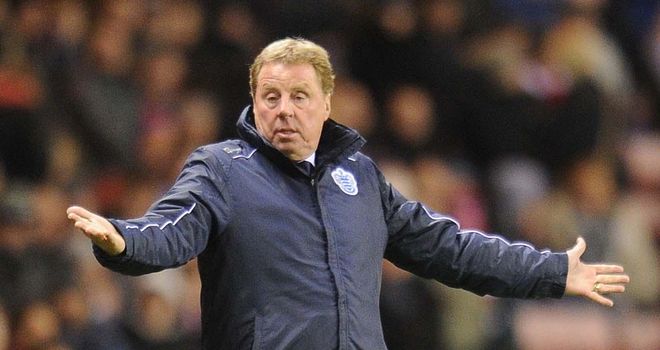 At half time we definitely felt like we edged it but 0-0 was probably a fair reflection of what we saw. During the interval we saw Rob Green go through a vigorous warm up and we found out via the power of twitter that Cesar had picked up a groin injury and was unable to carry on. So Rob Green replaced him at the start of the second half. Ironically Green was being courted by Redknapp at the end of last season to join Spurs on a free transfer instead of joining us.
The second half was much the same for the R's and Sunderland did struggle to create many problems for the R's defence. They did have great chance midway through the half and Green made a superb save on the line to keep his clean sheet in tact.
In the last five minutes SWP, who replaced Taarabt with ten minutes to go, broke clear and had his shot blocked by Mignolet.
All in all it is a pleasing way for Harry to start with and we can definitely build on it and go forwards and start putting points on the board and make in-roads to the deficit that is currently a challenge to overcome.
We look heavily over balanced in midfield, however we ll now be more solid and organised defensively, our real challenge is going to be finding where we are going to get match winning goals from. With Cisse and Mackie being the only strikers in our 25 we need players like Taarabt and Hoilett to weigh in with their fair share of goals to get our heads floating above water again.
The
Man of the Match
was a majority decision this week. Lorna and myself put our votes up for Mbia and his commanding yet calm performance in midfield.
However after picking up the votes from Jenson, PK, Luke, Jess and Lofty (who managed to watch a stream at home) as
Armand Traore
. Traore was influential down the R's left and was often the only R's player advanced down the left wing to swing in crosses to the Sunderland box.
The pie ratings today were a mixed bunch.
PK went for the Steak and Ale pie, nice and had a tasty filling. 6
Luke opted for the Meat and Potato pie. really thick pastry to get through and wasn't that great. 4
Jenson had a Chicken Balti, nice filling and was tasty. 6
I also had a Chicken Balti and found the top crust about three inches thick and an effort to get to the filling. Disappointing. 4
This gives Sunderland an overall pie rating of 5
.
We soon got back to Jenson's car and hit the road back ad hit trouble on the way back as the A1 was closed around the Leeds area and we had to detour around the dirty town before getting back on the M1.
I leave this report now with us in Nottingham and flying back to our promised land.
Great driving Jenson!!!
I will return on Saturday after our game against fellow strugglers Aston Villa.
Keep the faith!