Rangers pay the penalty
Mick Harford, in possibly his last game in charge, took his charges to Middlesbrough in search of revenge for December's 5-1 mauling at Loftus Road and also to try and carry on the winning ways that were rediscovered last Saturday against Doncaster. Let's see how the events unfolded.
The day started with a ridiculously early wake up time in order to get ready for the long ol poke to Teeside. I got on the road just after 8 to meet up at Jenson's house and then proceed to pick up PK and then Lofty as we hit the M1 just after 10 with Jenson at the wheel predicting a 1.30 arrival time, including a stop for food. The prediction competition made a comeback as I looked to defend my good record in the game, hope to silence the doubters that call me a cheat and collect the money once more. In the interests of fair play it was decided that Lofty would take down the predictions and mark the results.... I wonder if I will get accused anymore after tonight's result.
Mick Harford made one change from the side that won 2-1 against Doncaster. Mikele Leightwood came in for Matt Connolly in the centre of midfield. Leightwood also claimed the captain's armband off Lee Cook.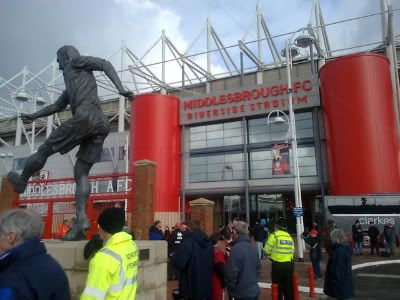 The first half was a very dull affair with Rangers looking the better of the two teams when in possession. Rangers started in a 4-5-1 formation with Jay Simpson playing wide right and Antonio German was alone and stranded up front on his own.
Despite all of that the deadlock was broken 10minutes before the break. Boro broke into the right hand side of the Rangers penalty area and Peter Ramage stupidly stuck a leg out and fouled the Boro player and the ref had no choice but to award a penalty. Barry Robson made no mistake from the spot, drilling down the centre of the goal with Ikeme nearly keeping the ball out with his feet.
Five minutes later and a second penalty was awarded. Leroy Lita somehow was awarded the decision when he just stopped and Kaspers Gorkss challenged for the ball and was harshly given the decision against him. Robson once again made no mistake from the spot.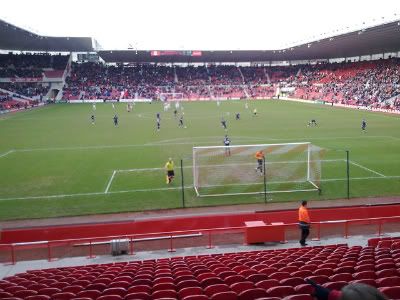 Half time was one of confusion because we all believed we were the better of the two teams but it was the two penalties that cost us a deserving 0-0 halfway through the game.
Rangers once again started and maintained their superiority over the hosts throughout the second half.
A Buzsaky free kick found Damion Stewart and he flicked a header goalwards but in the process he was being pushed all over the place and couldn't really get any power into the header. Unfortunately because Damo is over 6ft and doesn't fall all over the place, like that little clown Lita, a penalty wasn't awarded.
10 minutes into the half a double substitution was made. Marcus Bent and Gary Borrowdale came on to replace Antonio German and Matt Hill.
In the 70th minute Ramage ventured down the right wing and delivered a delicious ball into the box where Bent was arriving but somehow he wasn't able to make any contact to what would've been a certain goal. Lee Cook then picked up the ball on the left wing and delivered another fantastic ball into the box, this time in was Simpson arriving but despite throwing himself at the ball he was also unable to make any contact.
Faurlin, who was the better of the midfield pairing today, then departed the field and was replaced by Adel Taarabt.
Taarabt made an instant impact. He was given the ball after some hard work by Buzsaky and unleashed a drive from 20 yards out and forced the Boro keeper to make a pretty decent stop.
Boro then counter attacked and after a mix up it was Lita who was free and bearing down on Ikeme's goal. The big 'keeper stood his ground and produced a fine save.
With 10 minutes to go Ramage once again attacked the right wing and delivered his 2nd teasing ball of the day, he picked out Bent at the far post who could've nodded home quite easily from 6 yards out but for some reason he didn't and headed back to Leigertwood who hit his effort against the post! Another chance had gone begging!
A few minutes later another golden opportunity arose. Taarabt's cross found Bent in the centre and he tucked his tap in away, only to find that he had strayed offside. Jenson and PK had leapt out of their seats to celebrate whilst me and Lofty sat there because we saw the linesman's flag go straight up. Lofty then proceeded to shout a few expletives at the Birmingham loanee who really didn't look to care when he entered the field of play.
On the 87th minute we decided enough was enough and thought we could make a quick escape out of the crowded car park......... only to find that that gates wouldn't open until half an hour after the game had finished!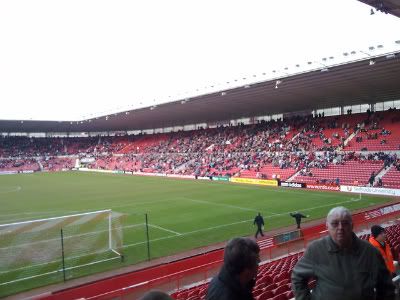 I think it's fair to say that this performance deserved at least a point and in the end the two penalties cost us the game but as I stated previously there was only one penalty that should've been awarded.
If we had been more adventurous in the first half and played with a 4-4-2 from the start I feel we could've asked more questions of Boro's defence and unfortunately Antonio German was often up top on his own battling away with no help around him.
Unfortunately some players didn't perform as well as they can do, Ramage produced a few decent crosses and one or two decent tackles but otherwise lacked quality. Leigertwood was inconsistent once again, he had a few good moments but lost the ball too often and it was usually in a place where it was crucial not too. Bent when he entered the field really didn't look hungry, he didn't look to want to chase balls down, at one point it was Jay Simpson who run an extra 20-25 yards to chase a ball down that was 5-10 yards away from Bent. He did improve slightly towards the end but by then it was too little too late. Taarabt shone once again when he came on and actually looked hungry for the ball and passed more often than I have seen before. We would really benefit if he is re-introduced into the starting line up. Borrowdale came on and looked decent when in attacking positions and helped Cook out really well but defensively he looks suspect. If he works on his defending then he could be a useful squad player for us.
Now we go onto
Lofty's Man of the Match
. Lofty found this one quite easy today as the player chosen did shine quite often and he looks to be coming back to his brilliant best as every game goes by, we are obviously talking about
Lee Cook
.
Middlesbrough:
Coyne, Pogatetz (Taylor, 78), Lita (Arca, 83), Aliadiere (Franks, 65), Killen, Flood, O'Neil, Robson, McManus, Wheater, Naughton.
Subs:
Jones, Hoyte, Miller, Grounds.
Goals:
Robson (38, pen), (44, pen)
Bookings:
Killen (72)
QPR:
Ikeme, Ramage, Stewart, Leigertwood, Buzsaky, Gorkss, Cook, Faurlin (Taarabt, 69), Hill (Borrowdale, 54), Simpson, German (Bent, 54).
Subs:
Cerny, Vine, Balanta, Ephraim.
Attendance:
17, 568 (523 QPR fans)
Referee:
Mr K A Woolmer
When we all returned to the car the prediction results were ticked off, after a good first half I was in front with a nice lead in front of the other three. Once the second half of the scores were done the results were :- Jenson in 4th , Lofty in 3rd, I managed to come 2nd and after storming through with a number of correct scores it was PK that claimed the title for the first time in a well deserved victory, winning the £20 prize money.
Jenson was in brilliant form at the wheel again. We timed his efforts and deducted the pitstops we made along the way. The journey up took us just under 4 hours but we had roadworks and average speed cameras hindering us. The journey back took 3 and a half hours! With the Formula 1 season just around the corner I think its safe to say that you shouldn't look past the big blue X5 that will be lining up on the grid alongside the likes of Hamilton and Alonso.