Glad It's All Over...
Preston 2-1 QPR

Preston sneaked into the play-offs on the last day of the season with a 2-1 win over QPR at Deepdale on Sunday, but only just...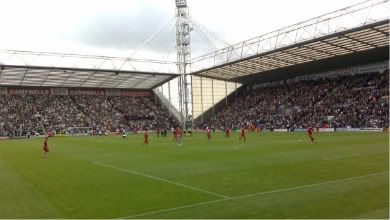 My sincere apologies for the lateness of this report, but as mentioned, what with it being the last game and all, the gang and I thought we would make a long weekend of it and descended on Blackpool. Little did we know at the time of booking, that we would be in a Bed and Breakfast in the gay area and was welcomed on arrival by a Paul O'Grady look and soundalike, but that's another thing. Sadly, PK was unable to join us at the last minute due to an ankle injury, hope you feel better soon mate!

Anyways, moving swiftly on and we made the short trip over to Deepdale for the lunchtime kick off and arrived in good time for a much needed hair of the dog in a local pub. As you know, Preston needed to win, which normally means an inevitable defeat for the QPR. But this was far from an easy ride for the home side as the R's put in a very decent performance.

Albeit watched through glazed eyes, Preston took the lead on 37 minutes through an uncharacteritic mistake from Kaspars Gorkss, who received a goal kick from Cerny, underhit it back to his keeper and Jon Parkin nipped in to take the ball, round Cerny and fire into the net. The expected Preston onslaught/QPR surrender did not happen and Rangers drew level on 57 minutes - Vine played a through ball to Agyemang and he beat Youl Mawene to slide the ball past the keeper to level the scores.
Shortly after, Deepdale lifted with news of Cardiff's demise at Sheffield Wednesday and they re-took the lead on 74 minutes - when a Parkin long throw was flicked on by substitute Chris Brown and St Ledger headed home from inside the six-yard box, depsite Connolly's desperate attempts to clear off the line. I was particularly disappointed that it was Sean St Ledger that got the eventual winner, as my memories of him are that of a spoilt brat whingeing,moaning,sulking and generally throwing his toys out of the pram in the corner, all because he was asked to play right back in training. This was during his time at Peterborough of course and the Big Ron Manager documentary.

QPR pushed on and made it a nervous end for the home supporters, with Ephraim having a deflected effort saved and then, right at the end, Carter cleared off the line from Matthew Connolly in stoppage time to the relief of a nervy Deepdale. The final whistle went soon after, the home fans poured onto the pitch in celebration and the R's travelling support had to once agan, politely acknowledge their opponents successes. Well Done Preston and Good Luck in the Play-Offs.

QPR: Cerny, Mahon (Balanta, 82), Delaney, Vine, Gorkss, Leigertwood, Connolly, Routledge, Ramage, Agyemang (German, 75), Ephraim. Subs Not Used: Hall, Cole, Alberti

Lofty's Man of the Match - Hogan Ephraim

So, despite the good performance, it was another disappointing end to what has been a very trying season. The end of the football season is something I have always dreaded, but to be honest, I am welcoming this one with open arms and am looking forward to the Summer break immensely.

Yes, I will be renewing my Season Ticket and yes, I will be travelling up and down the country next season and yes, I will be returning for the friendlies. But for now, all that remains for me to do is thank Lee for his excellent additions to these pages and to each and everyone of you for your continued support of this site. It isn't always easy to write and remain upbeat, but your support and comments certainly help me through the not so good times.

Thank You All and Come On You R'sssssssss!!!!