There's only one Gareth Ainsworth.
Mick Harford took charge of his first home game at Loftus Road today and was in search of his first win as Rangers' boss. Standing in the way of the maiden victory were Scunthorpe, a team that have never won at Loftus Road.

The Lofty Heights crew were split into two groups before the game as Lofty, PK, Corp and Darren went to the Springbok and in the Connie were me, Sam , Justin, Nik and Iceman. We were also joined by Michael Whelan, Shamie and more Irish R's in the Connie. We all joined up before the start of the game as normal service was resumed. Jenson was on holiday duty once again and we had a late arrival.... California Hoop finally arriving 39 minutes into the first half!

Mick Harford made one change from the team that lost 5-0 at Nottingham Forest on Tuesday evening. Damion Stewart dropped out as Rowan Vine replaced him as the R's lined up in a 4-4-2 formation. Leigertwood dropped to right back, Connolly moved into centre back with Gorkss and Hill was at left back. Buzsaky and Taarabt played in the wide positions, with Faurlin and Quashie in the centre of midfield. Vine partnered Jay Simpson up front.
During the first half Rangers' created more chances than the visitors but failed to make their possession and opportunities count.
On two separate occasions the R's had the ball in the back of the net but were denied by two offside decisions, one of which looked extremely tight.
Scunthorpe had a chance to go into the break one up after Ikeme blocked a Woolford shot, he could only parry it to Togwell who was 12 yards out but he blasted way over the bar.
Thankfully half time came along to save us!
News broke out at lunchtime that Gareth Ainsworth would be leaving the club and becoming a free agent. Ainsworth was presented to the crowd at half time and he was given the chance to say thank you to the fans for making his stay at Loftus Road "fantastic and unforgettable". He said that we never got less than 100% from him (I believe we always got 110%) and QPR would hold a special place in his heart.
Ainsworth's favourite memory was the day at Hillsborough when the R's won 3-1 and clinched promotion to the Championship, 12 months after joining the club from Cardiff on a free transfer.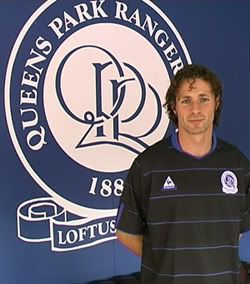 Gareth really has earned himself a legendary status during his seven and a half years at the club and I'm sure everyone will wish him the very best as he looks to prolong his playing career. I sincerely hope that Gareth will one day come back to the club in some capacity.
Its just a shame the C-Club couldn't stay away from their prawn sandwitches long enough to thank him for all his efforts during his time here and being a caretaker manager on two separate occasions for them.
Oh there's a "game" to talk about, here we go with the second half.
The R's continued to enjoy more possession than their opponents but rarely looked like they would threaten Joe Murphy in the Scunthorpe goal. I counted possibly three shots on target during the second half, from Leigertwood, Cook and another shot that has since been forgotten about.
The passing got better as the half got older but that final killer ball was lacking.
Scunthorpe did have the ball in the back of the net at the midway point of the half, but once again the offside flag came to Rangers' rescue.
However just a few minutes later it was 1-0 to the visitors.
A long ball from defence found Hooper out on the right hand side. His through ball into the centre found Thompson completely unmarked and he poked home from close range.
Immediately after the goal a double substitution was made. Antonio German and Lee Cook came on for Rowan Vine and Adel Taarabt.
Some 5 minutes later Angelo Balanta came on for Akos Buzsaky.
During his time on the pitch Lee Cook looked the most likely to create any kind of chance and his crosses from the left hand side looked very dangerous during his 15 minutes on the pitch.
Unfortunately an equalizer wasn't found and Scunthorpe went away with the points for the first time in their history.
After the game a protest was held by 150-200 fans outside the W12 VIP entrance, little to everyone's knowledge that Flavio Briatore had left the ground upon Scunthorpe scoring their goal. Chants of "we want our Rangers' back", "£20 you're having a laugh", "you can stick you're four year plan up you're a@#e" and mimicking the circus music. The songs being sung during the game like "if you hate Briatore clap you're hands" (and a few others I wont mention due to the language). These chants were heard by the Chairman and you now have to wonder if he will look to sell up to someone else, if he hasn't already started courting with prospective investors.
Onto our
Man of the Match
award. Its hard to look elsewhere than the person that is going to get this award today. Lee Cook looked like he was progressing nicely on his comeback from injury and posed a lot of threat when he came on and today the award definitely has to go to
Gareth Ainsworth
.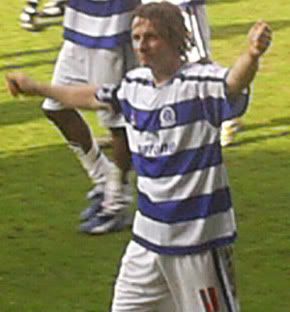 Rock On!!