Transfers Far From Dunne
The rumour mill has been in full flow over the last few weeks and there has been a massive near miss as the R's look to bounce back from last years relegation from the Premier League.
The R's responded with the excellent free transfer signing of Danny Simpson and signalled the ambition we have for the season and since then we have been linked with a lot of 30+ year old players as Harry Redknapp looks to complete deals for 'the right sort' that will help us achieve an instant return to the top division.
Rangers' second summer signing was Richard Dunne, an experienced head that has been somewhat needed in the Hoops backline for quite some time and despite his injury troubles last year this looks to be a smart piece of business that will shore up the back four.
Dunne, a Republic of Ireland International, has been widely appreciated by the fans of his three former clubs for his consistent performances and we can only benefit for a player of his experience and calibre. He will assist the younger players in training and help them achieve their dreams of pulling on a hooped shirt as we look to blend in some of our promising youth players that we have seen and been highly spoken of by Marc Bircham as he heads up our Elite Development Squad.
The third signing was a strange one for me with Karl Henry penning a two year contract after being pushed out of the door at Wolves.
Henry was largely linked with us before he signed for Wolves and the signing has come full circle despite our squad being inundated with midfielders. Henry didn't set the world on fire when Wolves were in desperate need of some fighting spirit in last years relegation battle.
I do not see what more Henry will offer when we have grafters like Derry and Faurlin already at the club and already led the way when we were promoted in style a few seasons ago. You look even deeper to see that we still also have Granero, Mbia, Jenas, Diakite that can play in the same position. Yes some of them may leave but we will not be able to sell all of them, not on last seasons performances anyway!
I really do not hope that Faurlin will be forced out of the door because of this signing or any other potential midfielders signing for us this summer. Faurlin has proven himself to be a class act and was the first name on the team sheet before his ACL injury and then being rushed back by Hughes-less and then being pushed over to Italy for a six month loan last January, making two appearances, when we really could have done with his battling style and class in which he runs the midfield engine at Loftus Road. IF Ali goes then it will be a huge loss to us and all the fans know it!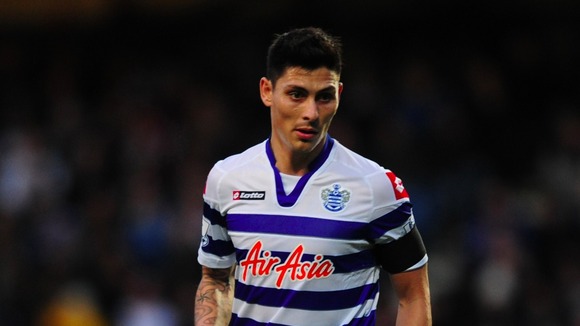 A few departures have already occured with Jamie Mackie handing in a transfer request to force through a move to Nottingham Forest. Mackie may lack skill and a few other attributes, however he was a tryer and would run through a brick wall and his enthusiasm will be missed at the club.
Ji-Sung Park could finally be on his way with a loan move back to his former club PSV. I can see a few empty seats at Loftus Road now with his fan club not being at W12 on a Saturday, however it will give some of our loyal fans the chance to attend games at home now.
On a more postive note...........
Bosingwa has gone!!!!!
That's enough said about that waste of space!!!
Good riddance!
Last week we missed out on the signing of Gary Hooper, which was a very optimistic move and I'm surprised we got so close to getting his signature. Hooper has England ambitions for the summer and was always going to hold out for a Premier League club. He got what he wanted and you cannot blame him for signing for them, it's just a shame it had to be Norwich!
With under a week to go now until the season kicks off we are heavily linked with Charlie Austin and I hope this is one that we manage to grab as he is one of the best young strikers around and has proven he can perform at Championship level, so his goals would give the R's goal tally a much needed lift as we cannot rely on Zamora to provide 15-20 goals this season.
Austin and Jordan Rhodes would have been high on all Rangers' fans wish lists this year so this signing really would lift the mood ahead of what is going to be a long season.
Will Andros Townsend return to the R's? I think this will be similar to the Hooper deal and if a Premier League comes in for Townsend then he will go there, but we can all hope!!!!!
Who else will come in? It's anyone's guess as we have been linked with so many players over the past few weeks. I personally just hope we do not sign too many players of the 30+ bracket as we will need another overhaul of players in a few years time if this is the case. Let's get some young players in who are going to be hungry for success, this is what will be a catalyst for success, especially with the experienced heads we now have in the squad.
This is going to be an exciting season and very long!!! There won't be many fingernails come the end of the season that's for sure!
Let's enjoy it and we always know we are in for a rollercoaster ride over the next nine months!
U R'SSSSSSSSSSSSSSSSSSSSSS!!!!!!!!!!!!!!!!!!!!!!!!!!!!!!!!!!!!!!!!!